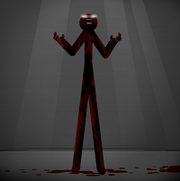 The Wise One was an Ancient swordsman and Psychic of some power that kept the Artifacts and met some unknown 'end' in the Third Castle. He has a resemblance to Lloyd. The third artifact stands where he once stood.
Castle Prologue
Edit
The narrator tells the story of how a mysterious psychic force sprung up within a warrior race known as the Ancients. The Wise One was one of these. the Psychics, possibly excluding The Wise One, unleashed a supernatural race which wiped out The Ancients. The Wise One, as a sole survivor, took the source of their power to the Castles, where he met some unknown ending.
Castle III Part C
Edit
Dr Romanov is reading inscriptions on the wall and he mentions the Wise One.
Ad blocker interference detected!
Wikia is a free-to-use site that makes money from advertising. We have a modified experience for viewers using ad blockers

Wikia is not accessible if you've made further modifications. Remove the custom ad blocker rule(s) and the page will load as expected.